News
TEXVENTURES : PERFECTING THE ART OF TEXTILE MANUFACTURING
by Hemp Studio on Apr 27, 2023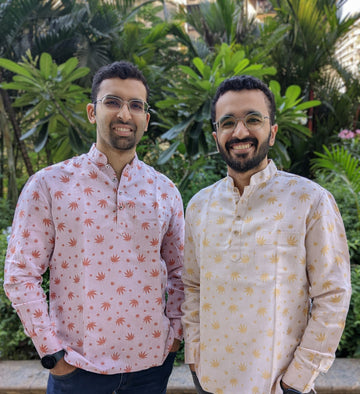 Approximately USD 43.75 billion is expected to be generated by hemp fiber by 2030, with a CAGR of 33 percent between 2022 and 2030. The market is driven by the growing legalization of hemp cultivation and increasing clothing developments and innovations by manufacturers and research institutions. The growing preference for organic alternatives in clothing and food is another driving factor supporting the growth of the hemp fibers, yarns, and fabrics in India. Textile is the second largest industry in India and has the potential to catapult the adoption of hemp. Once the consumer switches to hemp-based clothing, awareness about hemp's numerous uses and benefits will spread rapidly. Hemp fabric is known for its durability and strength, making it an ideal choice for customers who are looking for long-lasting clothing. It is a great all season wear since it is breathable and absorbent which makes it airy for summers and has an insulating effect for winters. In addition, hemp fabric is naturally resistant to mold and is also inherently anti-microbial, and gives UV protection while having a good color depth that is bound to make heads turn. Established in 2015, Texventures is a professional organization engaged in sourcing and marketing Fibres, Yarns, and Fabrics in Domestic and International space. Since its inception, the company has acquired extensive knowledge of market behavior and marketing strategies to promote natural fibers in the Indian market. Innovation, Marketing, and Supply are the three essential aspects the firm emphasizes. Texventures believes innovation is not a one-time activity but a continuous process. The firm has made over 200 fabric quality developments in hemp and introduced 150 fabrics based on frequent inputs from the market over the past four years. Texventures is deeply involved in educating the Indian market through testimonials, Google and Facebook advertisements, print media, and textile exhibitions. A collaboration with Hongkong-based Kingdom Holdings, one of the biggest hemp yarn spinners in the world with a capacity of 4,000 tons of 100 percent hemp yarn, has enabled the firm to capture and generate steady demand based on a stable supply. Texventures has established itself as a one-stop destination for all hemp textile needs in India, bringing quality and consistent bulk supply of hemp yarns. In addition to offering a steady supply, the firm is also engaged in building the marketfor Hemp by visiting weavers, process houses, and garment factories and working at the grassroots level to educate them about Hemp and the techniques required to make quality end products "Since cotton and polyester dominate India's textile industry, educating the public about hemp's advantages and convincing them to adopt slow and sustainable fashion is challenging", shares Siddharth Mehta, Partner, Texventures. The company has undertaken several experiments and spent most of 2017 fine-tuning the production process to provide A-grade sustainable textiles to the market. The firm's hemp yarn volumes currently stand at 800 tons per year, and it is looking forward to doubling that figure by 2023. Texventures' fabrics division under Mehta Fabrics and Yarns has already produced over 150 hemp fabrics, supplying to major hemp garment brands in India, SMEs and individual designers as well.
A Commitment To Excellence
Texventures is a young team of professionals belonging to Technical and Commercial backgrounds with an experienced sales and marketing team consisting of textile engineers and commercial managers, backed by efficient support staff. A majority of Texventures' team has been with it since inception, facing challenges together, assuring a synergy in work, and preserving the firm's core values. Each team member is constantly striving to deliver clients with nothing but quality. The firm's spinning facility comes with advanced textile testing equipment manufactured by Swiss company USTER Technologies,which is considered the global benchmark in textile trading and act as the final criterion for quality control during every step of production. Its fabric quality control team ensures the quality is maintained and wastage is minimized, at each step of the fabric production process, from sourcing to weaving to processing. Fabrics that fail quality control are reused in some form rather than discarded. Texventures maintains an inventory of up to 250 tons of linen and hemp yarns in India, making it unique in the textile market. The firm uses a Customs bonded FTWZ (Free Trade Warehouse Zone) near Mumbai which allows it to maintain stocks securely and provide real-time supply to its customers, meeting demand as quickly as possible. With its rich knowledge of the Fibre-to-Fashion process and a network of linen and hemp vendors, Texventures has become a recognized leader in the industry. In line with its motto, "Innovation is our Motivation", the company not only supplies yarns but also develops new qualities and promotes them directly to major brands. Its Hemp fabric range offers a large selection of weaves and designs to suit every customer. By maintaining these fabrics in inventory, Texventures has been able tosupply even to start-ups and designers at no minimums, leading to an aggressive push in the market for hemp fabrics. From 100 clients in FY16, Texventures has more than 450 clients in FY22 and has sold over 800 tons of hemp yarn and over 5 lakh meters of hemp and hemp blend fabrics.
Texventures aims to be the global market leader and a trendsetter in the hemp textiles industry
Future Roadmap
Earlier this year, the company launched its brand, "The Hemp Studio", and a web portal to facilitate easy access by domestic and international customers. Besides B2B offerings, the company has a selection of fabrics for apparel, home furnishings, and accessories targeted at the B2C market. Currently, the firm is prioritizing exporting textiles to South America, North America, UAE, and more, where it collaborates with wholesalers to expand its market.